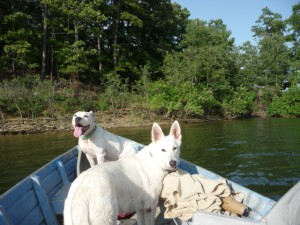 It is still hurting ME when I see her limp!  It seems like she gets tired much easier.  We went to one of our old places – she looked at one of the hills she used to bound up and didn't go.  When she slips or can't get up, those are the times that it just grips my heart.  Now I'm worried that it will be more strain on her other leg and she'll develop arthritis rather than making it stronger.  It's very uneven ground here so she's learned to make tight turns, etc (no need to use exercise pads).
We just ordered a Waring MG-800 grinder so soon the freezer full of beef parts will come out.  So far, we've just been doing ground turkey and hamburger with the other ingredients.  Found a place about a mile away that has fresh eggs.
Her hair is taking a long time to grow back.  Is she still in shock?  When I scratch her stomach, her little stump wiggles.  If they folded the muscles over at the base of the incision, do those muscles till work? Do I need to try to exercise her stump somehow so it won't shrivel up?  Her leg has turned almost black.  The vet said it's pigment from being hairless and I wouldn't have thought that was true until the spot where they put the i.v. in her front leg turned dark too.  i purchased the harness for her and it has helped a few times helping her get into the car.  She has no problem getting out – she just can't jump up as good unless she sort of gets a running start.
Some days I just feel like this is all too much.  First my other little dog disappears, then this happens to Niki.  She would be so happy if Waltz would just come home….